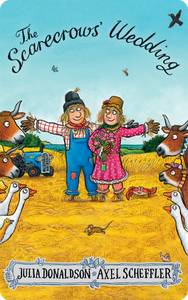 Even scarecrows can be soppy when love is in the air! Another instant classic from Julia Donaldson.
Written in Julia Donaldson's glorious rhyme, The Scarecrows' Wedding is a fabulous love story, with drama, humour, originality – and a happy ending! Two scarecrows, Betty O'Barley and Harry O'Hay, are planning the perfect wedding. But wicked scarecrow, Reginald Rake, has other ideas and almost ruins their special day. Harry must become a hero before he and Betty can have the wedding of their dreams.
Brilliantly performed by award-winning actress Imelda Staunton, this card includes the complete, best-selling story with music, The Scarecrow's wedding song, a listening game, and a read-along version of the story with musical page turns to use with a copy of the book.
Author: Julia Donaldson, Axel Schefer
Read by: Imelda Staunton
Running time: 34mins
Content type: Stories
Age Range: 0-5, 5-8