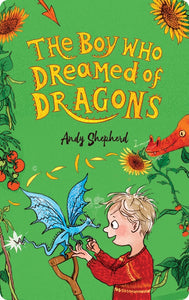 Our favourite dragon keeper has his work cut out for him with a brand new dragon, Zing, in the 4th installment of this fiery fun series 
Eleven-year-old Tomas has a secret friend like no other: Flicker, a dragon with glittering eyes and scales that flicker from fiery orange to ruby red. But Tomas is also having to get used to Flicker being away, now that his dragon's home is back in the frosty North. Adventure is never far away for Tomas, though - as he finds out when another dragon hatches on the dragonfruit tree at the bottom of the garden, a dragon who quite quickly decides he is sticking firmly with Tomas! Zing is a tiny dragon with oversized wings who causes havoc wherever he goes.

When a new girl, Aura, starts at school, proclaiming herself to be a dragon expert, Tomas is thrown into confusion. He is the one with the dragons and the dragonfruit tree, after all! Before he knows it, Tomas has blurted out his secret to Aura, setting in motion a chain of events which will lead to adventures and mayhem aplenty.
Author: Andy Shepard
Read by:Ewan Goddard
Running time: 4 hours 4 mins
Content type: Stories
Age Range: 5-8,8-12
Language: English