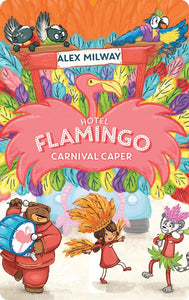 The spirit of carnival arrives at Hotel Flamingo. Viva la fiesta!
It's the end of the summer, which means it's time for Carnival! And Hotel Flamingo, the sunniest hotel in town, is all set to join the party. Animal Boulevard is a riot of colour, and every establishment is preparing a float for the annual procession. Anna is determined to win the prize for Hotel Flamingo for the best display, despite rival hotel the Glitz having won it every year since the Carnival began.
But disaster strikes! The rainy season comes early, and high winds and torrential rain lash down across the Boulevard. Can Anna save the Carnival and the day?
Author: Alex Milway
Read by: Sarah Ovens 
Running time: 1 hours 23 mins
Content type: Stories
Age Range:  5-8, 8-12+