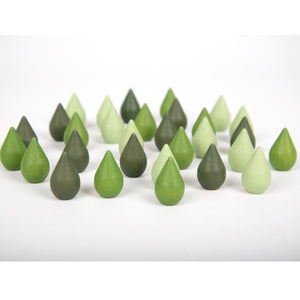 If you love loose parts you will love these beautiful smooth wooden droplets which come in three shades of green. They represents physical healing, nature and caring.Wooden Treasures are a versatile open-ended resource designed to stimulate the imagination, engage logic, discover creative ability, develop coordination and enhance fine motor skills. The droplet set can be used alone or as an add-on to the wider Wooden Treasures range.
• We don't bleach our wood prior to colour application which highlights the varied features of the natural material.
• Complements the TickiT Rainbow Wooden Loose Parts & Architect ranges.
Supports the following areas of learning:
• Physical Development - motor skills
• Personal Development - sensory, collaborative play
• Expressive Arts & Design - imaginative play
• Understanding the World - colour
• Maths - counting & sorting
• Maths - pattern

Specification
Size: approx. 28mm x 17mm dia. Pk15 

Age: Suitable from 3 years.