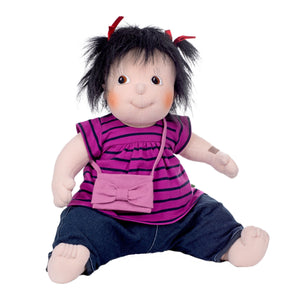 Meiya is a Rubens Barn Original Doll, she is perfect for boys and girls alike to cuddle and play with. Dressed in a bright and vibrant purple ensemble Meiya's clothes can also be changed by your little one to suit the game they're playing. Meiya loves hugs and after exploring all day she will help your little one snuggle down and sleep through the night.
Meiya comes wearing A stripy purple t-shirt, a pair of blue jeans, red ribbons and has a pink handbag.
Height 50cm, Weight 1000g
Meiya - Washable at 30, tumble dryer friendly on low heat.
Clothes – Hand wash, tumble dryer friendly on low heat.
Suitable from 3 years.
Handmade
The Classic Rubens Barn Original dolls are weighted and make perfect empathy dolls for doll therapy for people of all ages. They help a wide array of people in a number of different situations. These gorgeous dolls are soft and perfectly huggable.
Gender:  Girl Doll
Anatomically Correct:  No
Age:  3 Years +