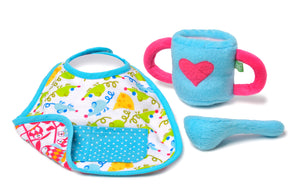 This fantastic set is vibrant, soft and tactile, and is a perfect toy to be used with your little one's baby doll. Great for teaching a child how to feed a baby, this set not only nurtures skills in caring but is a good way for them to copy you if you are weaning a younger baby. A staple toy that will be well loved by your child as they play and develop.
Included in the set are a fabric spoon and cup, and a double-sided bib.
Made using a soft polyester
Can be hand-washed and tumble dried on low heat.
Rubens babies are perfect for children as they learn emotional and social skills and how to care and look after a baby. Giving them basic accessories to aid this is a great way to encourage and nurture their development through play.


3 years +