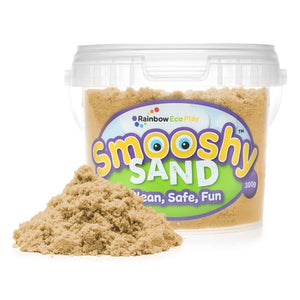 Our Smooshy Sand is an eco-friendly, coloured magic sand, made of 100% natural minerals. Our tubs are resealable, reusable and recyclable. Smooshy Sand eco magic sand is an amazing mouldable magnetic magic sand for kids and adults sensory play and crafts. You can squeeze it, mould it and then watch the moving magic sand flow through your fingers – you won't be able to put it down.
Smooshy Sand is a soft, moving magic sand which is fun, mess-free and great for kids sensory play. The moving magnetic sand can be moulded and shaped much easier than traditional play sand. Smooshy motion magic sand is soft and silky – hold it then watch the magic as it melts through your fingers. Motion, moving magic sand is loved by kids of all ages and adults love playing with it too. Perfect for pre-school, playgroups and nurseries for sensory play and crafts, toddlers love using our magic sand to build sand castles. Older kids will also enjoy using our magnetic sand to make sand shapes then chop and slice them up – super soothing and satisfying.
Not only will magic Smooshy Sand inspire children's creativity and imagination, it's a great sensory craft for both adults and children alike – working with the moving sand can help reduce stress and produce a calming effect. It's a great activity which can be used all year round, keeping children entertained for hours – they will never want to put it down. Cleaning up the magic sand is easy, because it sticks to itself when compressed.
Clean, Safe, Fun for all ages
Our magic Smooshy Sand ever dries out
Inspire children's creativity and imagination
Superb sensory toy – helps reduce stress