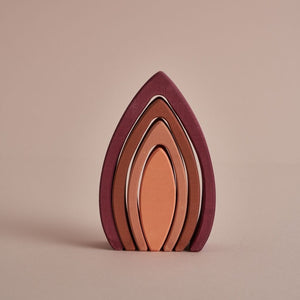 Inspired by Montessori and Waldorf encouraging open ended play, allowing children to express themselves in play freely and creatively, not bound by preset limitations.
This colored wood stacker is great for both - toddlers, who are learning how to stack and nest objects, and older children who love to play with blocks

There are various ways of playing... You can learn colours, count the blocks, use the stacker as a pyramid and as a balance toy. Make art-objects and let the little ones get creative!

The stacker can be a bridge, a tunnel for little cars, a bed, a seesaw or dolls furniture! The possibilities are endless!
Size approx 15.5 x 10 x 4cm

MATERIAL : lime wood, dyed with non-toxic watercolors, without lacquer

These should not be submerged in water, use damp cloth to wipe

Recommended for children 3+ 

Actual colors may vary a little from pictures depending on unique wood features

Made by Raduga Grez

Raduga Grez which translates to 'Rainbow Dreams' creates toys that are inspired by forest, laughter, childhood, natural beauty and fairy tales.
They are un-varnished, velvet wood, which gives these toys great hand motor development, without splinters. Hand made, to the strictest EN71 safety certificate, without the use of plywood or glue; these toys are totally unique. Made from beech tree and sourced only from the most ecologically sustainable forests