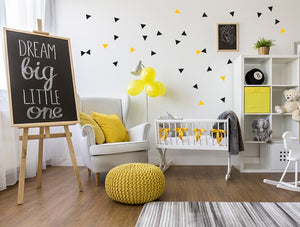 Pastelowelove wall stickers will successfully transform your interiors and give them the unique look. Made with the utmost care and attention to details, the stickers are made form the high-quality foil, thanks to which their application is extremely easy and fast. For assembly, all you need is a dry, smooth surface, a cloth and tape measure - if the pattern is to be laid at equal distances.
Stickers are cut from a special matt, self-adhesive foil. The shape is cut separately, thanks to which you can quickly peel them off and stick to the desired surface.
One set of stickers is made of the same color of foil. If You plan to arrange your space in several colours, You must to purchase the right number of sets.
Includes 72 pieces 
Size - 5x5cm
The stickers are durable and easy to maintain, which is their unquestionable advantage in comparison to traditional wallpapers.
We encourage You to read the instructions before applying - HERE.
THE MOST IMPORTANT FEATURES:

all elements cut separately - ability to stick them anywhere you want,
cut out on the contour - they do not have a background and are suitable for every wall color,
the highest quality of foil - with BASF certificate,
packing agree with zero waste rule,
sent in biodegradables tubes, resistant to damage,
resistant to humidity and UV radiation.