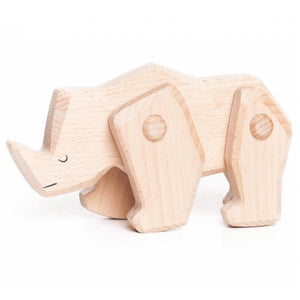 From the Bajo Endangered Species collection.  This lovely wooden jointed Rhino can walk, sit up or charge into battle! It is a very tactile toy, children will love to put him in different poses. Great Wooden Toy for imaginative play.  Made from solid wood, left unpainted so you can see the grain of the wood.  The Rhino is jointed so you can put him/her in lots of different poses. 
Makes a great toy but is equally at home as decor.
A beautifully handmade piece to be handed down through the generations.
Suitable for 1.5 years +
This toy measures 19 x 7cm x 11cm