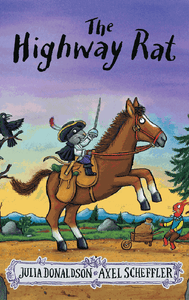 Be wary of The Highway Rat, he'll steal all your delicious treats. But will he get away with it? A clever homage to the beloved poem "The Highwayman" that will be enjoyed again and again.
The Highway Rat rides along the highway stealing all of the travellers' food. But a crafty duck soon puts an end to his crooked ways!
Brilliantly performed by award-winning actress, Imelda Staunton, this audio download contains the complete, best-selling story with music, the Highway Rat Song, a listening game, and a readalong version of the story with musical page turns to use with a copy of the book.
1. The Highway Rat
2. The Highway Rat Song
3. The Highway Rat Game
4. The Highway Rat (Instrumental)
5. The Highway Rat (Read-Along Version)
Author: Julia Donaldson
Read by: Imelda Staunton
Running time: 29mins
Content type: Stories
Age Range: 0-5, 5-8