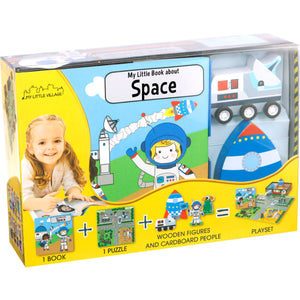 Explore all about space and learn about planets, stars and how you become an astronaut in this lovely, thoroughly photographic 64-page book. The box turns into your very own little space station.
My Little Village is a groundbreaking new series which combines the world of books with the world of toys and games. The titles in this series can be put together in any way to form a small village.
Each box contains a selection of high-quality wooden toys, a sturdy and colourful puzzle, as well as a fully photographic introduction to the subject aimed at the curious 3-5 year old age group.
64 pages
Age 3+